The 3 great elemental sounds in nature after the sound of rain, the sound of wind in a primeval wood, and the sound of outer ocean on a beach.

Henry Beston
Where we live, we are able to experience all three sounds in nature.
The sound of rain….well hey, this is Scotland and we practically have webbed feet!
The sound of wind in a primeval wood.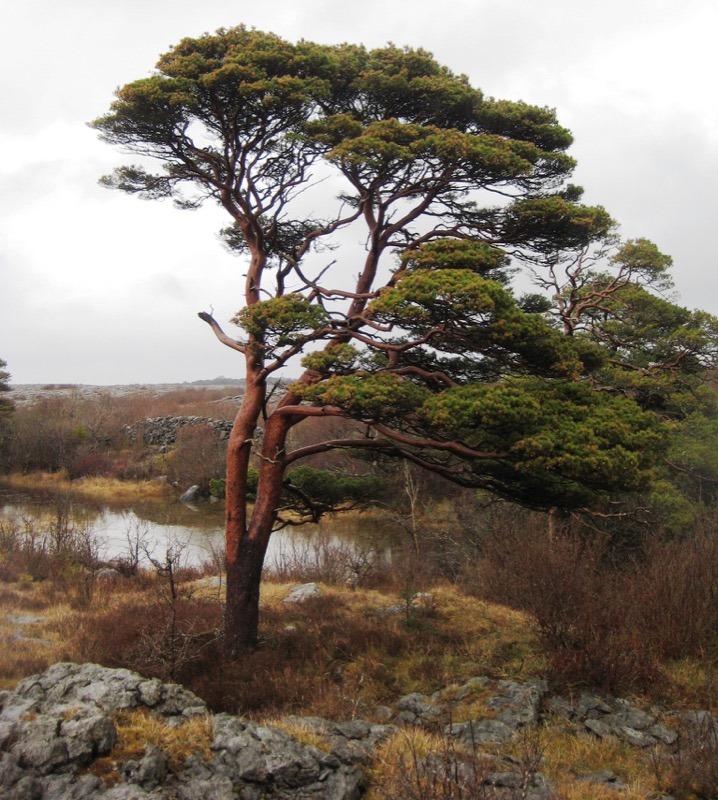 The Scots pine has a natural range confined to the Highlands in Scotland. It's native primeval pine woods cover approximately 17,000 hectares in a number of separate and isolated remnants—just over 1% of the estimated 1,500,000 hectare original area. The reason for its decline is unknown, although no doubt much of it was cleared away to make way for sheep farming and modern forestry throughout the years.
In winter, the sound of the trees' dry twigs and old branches cracking and creaking whilst the wind howls down through the hills and across these ancient forests is one of nature's hauntingly eerie orchestrated sounds—wild and creepy! Eeek 😱
You don't have to go too far into the countryside in Aberdeenshire to see these unusual 'wind sculped' trees. I've never photographed the moors where they're found but must add this to my photographic bucket list.
The sound of outer ocean on a beach—whilst we don't live near an ocean, we do live on the edge of the North Sea. When the tide is coming in (and depending on the wind direction) we can hear the sound of the sea crashing against the rocks down on the shore.
The sound of rain
This morning (Friday), we woke early to the sound of rain. I could hear it splashing against the bedroom window and gurgling it's way along and down through the guttering. It was raining a torrential downpour and just when it seemed it may have moved out across the North Sea, the clouds darkened and another torrential downpour followed just before noon.
After I'd finished my housework, I sat at the kitchen table with a cuppa just looking outside. Everything looked so lush and green and apart from the heavy rain, there was complete silence…..as if the world had stopped to listen. It's funny how torrential rain can sound so peaceful!
Fence painting
Today (Saturday) I was in the mood for painting outdoors! The weather looked promising (to start with that is) and I managed to get 12 wooden fence slats at the side of the house painted before the clouds began to gather thick and grey overhead. I could feel the splatters of rain in my hair and on my arms, so I finished the post I was painting and packed away the tin of fence paint just in time before the heavens opened. Well did it rain? It came down in sheets! I ran to the house and got changed quickly out of my painting gear and stepped into a nice hot shower. I'd got wet in the downpour, but was glad the newly painted fence didn't get ruined in the rain. It was just fine—probably because the rain came straight down and wasn't directional; had it fallen in the direction of the front side of the fence it would have been a different story. Only another 30 wooden fence panels still to paint (and that's just down the right side—the left side has lots more). 😝 Hoping this fence paint lasts a couple of years at least! Wouldn't like to repeat this job too often.
Parking space
At our last property, we had a large front garden with parking space for up to 10 cars in the drive at the front. I often used to think how handy such would be if the house was close to town. We could have rented out some of the parking spaces during the working week and made some income from it.
Here at our new house, we're hoping to extend the front drive to enable both our cars room to park off the roadside. At the moment, there's only space for one to park off-road—two if you count parking space in the garage. I think the parking was the biggest challenge we had to get used to when we first moved house. We were spoilt re: parking previously.
Plants
Find beauty in the smaller things.

Unknown
We purchased a couple of Lavender plants at B&Q today. We planted a lavender plant in the garden already but needed a few more to fill some gaps in the borders at the front. Hubby's going to plant them close to our bedroom window so perhaps we'll be able to smell their scent in the breeze from inside the room (here's hoping). Love the smell of Lavender—it's so relaxing and looks very pretty. Lavender plants also comes with the added bonus of attracting bees into the garden as well which is good news re: polination.
Hubby spotted Solitary Bees living in the small water holes along the bottom of the wall at the back of the garden. I'd never heard of Solitary Bees before, but if you'd like to learn about these little creatures, you can read about them here: Guide to Solitary Bees in Britain.
We also bought some foxgloves and these likewise attract bees…. and butterflies, so we're fair chuffed to be doing our bit for nature conservation, etc.
Nature in the garden
A few weeks ago, hubby spotted a small family of frogs at the bottom of the garden. I think they visit from one of our neighbour's gardens which has a pond. Apparently frogs help to keep garden pests away and reduce the need to use pesticides. Our Labrador likes to sniff out where the frogs have been and this often keeps him amused. Ha ha, don't know what he'd do if He was faced with a frog….. probably run away—he's a big sap! 😆
We have a few birds nests too dotted around the garden—one is in amongst our honeysuckle bush and another is tucked away inside a hedge. The eggs hatched some time ago and it's been lovely watching the mother birds feeding their young out on the back lawn. Our boy watches them keenly through the patio door. We daren't let him out when they're out on the grass because he'd chase them away. Hubby already rescued one of the baby birds recently by shoo-ing away a big ginger cat. 😱
Picnic
This morning (Sunday) we woke up to glorious sunshine. We're heading out for a picnic this afternoon…..myself, hubby and our boy. We'll stop somewhere picturesque and have lunch and take the dog for a walk afterwards. When I say walk, I really mean stop….start….stop and sniff! He sniffs everything (and I mean everything) in sight.
Online shopping
I ordered a couple of new duvet covers for our bedroom at the weekend. I'm hoping for a good colour match with our existing bedroom curtains. It's so difficult to tell what a colour looks like online and this is why internet shopping will never be the best option for such. I'm really missing not going into shops to view items for the house before purchasing them. Photos online very much depend on the lighting used and how well calibrated our screens are. It's not ideal.
Update: the covers arrived yesterday (Tuesday) and are a pretty good match, but if I had seen them beforehand, I think I would have carried on looking if I'm honest. They'll do for now though until I can visit a textile shop through in the city.
Today (Monday) is really wet weather wise and judging by the long-term weather forecast, I'm not going to be able to finish painting the fence anytime soon. I believe the forecast is better for later in the week, so hopefully then. There's lots of painting to be carried out in the house as well. Walls that were decorated previously became marked with workmen in and out pre lock down and will need to be re-done and all the woodwork has to be done too [sigh].
July 2019
This time last year, the weather was stifling hot and reached a record breaking temperature of 37.7 °C at Kew Gardens and Writtle, Essex. July 2019 also broke the UK record of being the hottest month on record. It was a horribly humid heat however—unlike the type of heat experienced in hot Mediterranean countries—it wasn't at all pleasant.
E-book
I started writing a photography e-book prior to moving house. The house move kind of hit that on the head a bit, then along came Covid-19 which dampened my spirit re: wanting to write anything, but I'm thinking now may be a good time to get with it again.
Pulling together content for a book is very time consuming but enjoyable too. During the first two stages of lock down, I couldn't get out into the countryside to capture images for examples in the book, but now it's fine.
At the moment, I'm sitting at chapter 2 of 11 chapters, so there's quite a way to go, but it'll be really good to get stuck in again…. and I love a challenge ☺.
Photo cull
Did a photo cull this afternoon (Wednesday). I'm really ruthless when it comes to culling photos!
Culling method
Initially I take my time browsing through each library of photos captured and immediately delete any out of focus (OOF) images. If I'm unsure re: any photos, I'll set them aside for a few days and go back and look at them with a fresh pair of eyes. On a second viewing, if I find myself trying to convince myself that I like them, I'll be ruthless and delete them! My reasoning is that if I'm still undecided second-time around, then they have to go. No point storing them on my hard drive. I've never found it difficult to let photos go, but I know there's lots of photographers who struggle with such from what I've read on photography forums I've visited.
---
Well, that's it for another week peeps. Here's hoping you are all beginning to get back to some kind of normality safely. Until next week—same time and place (DV) bye for now.